Oh man, this was a tough list.
Elsewhere:
My Top Memoirs of 2015
My Top Adult SciFi/Fantasy of 2015
My Top Nonfiction of 2015
I'll Give You The Sun – Jandy Nelson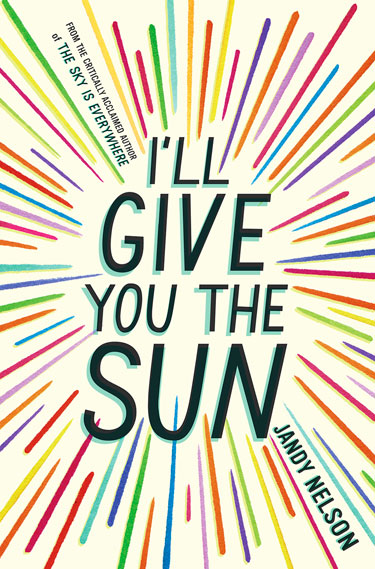 I loved her first book so so so hard, so I figured I'd like this one. But damn, I didn't just like it. I loved it in that way where you want to curl up with it and never put it down. I left it on my desk for weeks because I didn't want to put it back on the shelf. I love this book. I love every word in it. I felt glowy and happy and excited and there is quite sincerely not a single chapter or word I disliked. I love that it's romantic and beautiful without feeling sappy or overdone; the romance is integral, but not the focus of the plot.


These Broken Stars/This Shattered World/Their Fractured Light – Aimee Kaufman and Meagan Spooner

I got These Broken Stars on audiobook, on a whim. The cover was pretty, and it had good ratings, so why the hell not? And then I walked for SEVEN HOURS one day because I'd made a rule that I could only listen to audiobooks while walking/getting FitBit steps, all because I didn't want to stop listening. The first book is about the daughter of a insanely rich man and a decorated solider becoming stranded on a deserted planet and, while there, uncovering some dark secrets about that insanely rich man's company/ethics/past/drama. This series is beautiful and thoughtful and wonderfully written; I love the characters and their spot-on development, I love how they stories are all connected, and I love the romantic elements. I'm not typically a big sci-fi reader, so this series took me by total surprise.


Simon vs The Homo Sapiens Agenda – Becky Albertalli


I listened to this audiobook while on tour for the Pip Bartlett series and couldn't believe how much I loved it. In part, it's admittedly because the setting– an Atlanta suburb– is so familiar to me. But I also felt so connected to Simon. I loved the fact that even though I'm a straight woman, I didn't just sympathize with the struggles the gay male character– I empathized with them in a very deep, personal way. I think that when people discuss the need for more diverse books, this is the sort they mean– books that aren't diverse for the sake of being diverse or meeting some sort of quota, but diverse for the sake of showing just how universal diversity can be.


Wolf by Wolf – Ryan Graudin

A world where the Nazis won, Hitler holds an annual motorcycle race from Germany to Japan, and a girl experimented on in a concentration camp uses a rare power to enter that race. This book is phenomenal– the history is so well researched, the imagined world of Nazi rule so well extrapolated and defined, and the characters so complex and interesting and WOW. You need to read this yesterday.


The Wolf Wilder – Katherine Rundell

A friend of mine gave me not only this book, but the next one on my list as well, so obviously she is to be trusted with money and my living will and my first born. This book is so damn gorgeous and clever. It's set in Imperial Russia, and it's about a girl whose job it is to re-wild wolves who were previously the showy pets of the nobility. She's smart and dangerous and a little bit more animal than child, at kind, or in the very least is the line between the two. I felt like all my lines had been colored in with dark pretty Russia colors when I read this.


The Nest – Kenneth Oppel

First off– this book has a gorgeous, see-thru sort of cover that you want to touch. So. There's that.
Now for the inside parts. This book is, frankly, messed up. But really– it's about a boy whose baby brother is sick, and the creepy angels?wasps?demons? outside his window who begin building A NEW BABY in a GIANT WASP NEST and are going to TAKE HIS BROTHER and TRADE HIM FOR THE NEW BABY. It makes me wonder if Ken was hugged enough as a child, and then makes me want a hug, and also makes me feel creepy and delicious and weird. I loved this book, and literally sat in the parking lot at the bagel shop because I didn't want to stop reading, turn the car on, and drive the eight minutes home to read there.