Elsewhere:
My Top YA/MG of 2015
My Top Memoirs of 2015
My Top Nonfiction of 2015
A Darker Shade of Magic – V.E. Schwab

Look, I know Victoria. And I like Victoria. And I am still on my way to becoming her ultimate fan girl. I am going to start asking her to sign my arm or something whenever we run into each other. Or maybe my face. Last year, I read VICIOUS and *loved* it so hard. It's becoming one of my top recommendations. For some reason, I didn't read DSoM right away (even though OBVIOUSLY, I had it preordered). Why, past Jackson? Why did you not leap into this book immediately? Because this book is so damn glorious I can't handle it. She handles an ensemble cast (and quick POV-jumping) better than any author I know, and builds a world so well that it seems nearly impossible that it's entirely fictional. I listed this book first because if you only read one thing I recommend, make it this one.


Landline – Rainbow Rowell

I love Rainbow Rowell's writing. How could I not? She manages to write fantasy and magical realism and wizard books and contemporary and yet they all have the same feel, the same energy and love and spirit. Landline is the first of her adult books that I read, and I loved it because it is such a strange, weird, delightful story. I was working on something– I think THE INSIDE JOB– when I was finishing it up, and remember having to bargain with myself– write a chapter, get to read a chapter. But then I cheated and just read all the chapters.


Garden Spells/The Peach Keeper/The Girl Who Hung The Moon – Sarah Addison Allen

Stephanie Perkins recommended Sarah Addison Allen to me ages ago. I started with the Sugar Queen, which I loved so much that when I finished I ordered everything the author had ever written. Sarah Addison Allen's books are magical and sweet and charming and set in a Southern towns very much like the ones I grew up in. They are a warm hug romantic fantasy delight, and you should read them to feel fuzzy inside. Garden Spells is arguably her most famous, but I haven't read a single one I disliked.


Lexicon – Max Barry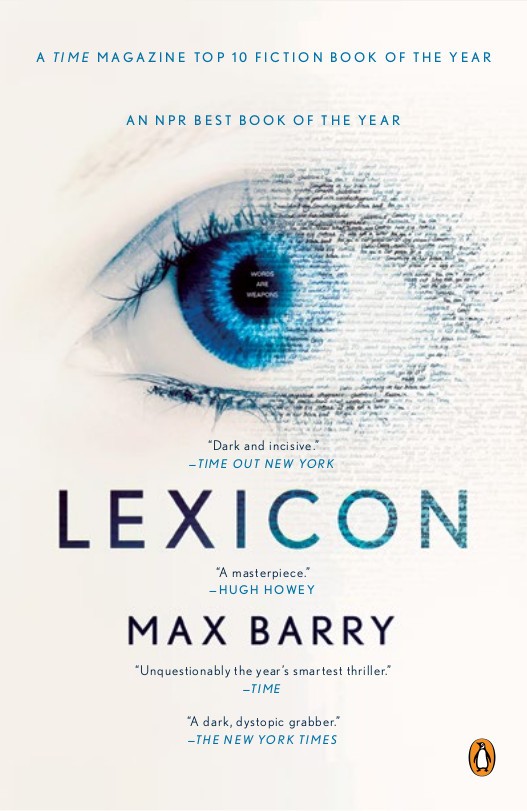 I'm not even sure where or how I came across this book– I think an Audible sale? It's about a world where words have power– literal power. It's powerful and twisty and the characters– a clever streetwise girl and a boy who doesn't understand why he's been kidnapped– are unexpected and interesting. It's a long and winding sort of tale, one where the setting changes just often enough to keep you on your toes (the streets! A school! AUSTRALIA! Whee!) and where the characters develop naturally, without the author having to step in and explain their choices to you. I didn't see the ending coming– not even a little bit.


The Girl With All The Gifts – M.R. Carey

Earlier this year Django Wexler mentioned this book to me while we were sitting in a hotel lobby with a bunch of other authors after a festival event. I asked him if it was super dark, and said super dark wasn't really my thing. He hesitated, and said he wasn't really sure. Months and months and months later, this book popped up on an Audible sale, and I figured I'd give it a shot. Now I fully understand the reason for Django's hesitation– because this book is so very dark in some parts, but so beautiful and hopeful and elegant in others. I won't lie– I didn't love the ending– and yet I still adored the book. Usually, an ending I don't fall for 100% ruins a book for me, but the rest of this book was so strong that I still consider it one of my top reads of the year.


Mr. Penumbra's 24-Hour Bookstore – Robin Sloan

This book is weird and delightful, the perfect intersection of magic and computing and mystery. I see a lot of reviews that complain about it being a love letter to Google– and I have to admit, it sort of is. But that didn't bother me, because the rest of this book is so fun and interesting and question-mark-making. It's essentially about a guy who takes a job at a 24-hour bookstore, only to discover that the bookstore is a check point for members trying to make it into a secret society. When the main character uses computing to achieve what's supposed to take potential society members years to do by hand, the sanctity of the society and its purpose is thrown into question.